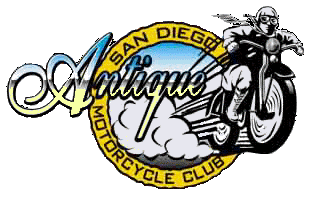 The San Diego Antique Motorcycle Club (a chapter of the Antique Motorcycle Club of America) is a non-profit mutual benefit corporation organized and dedicated to the preservation of antique motorcycles, and in furtherance of such purposes, the sponsorship of antique motorcycle rides, exhibitions and related activities, and the encouragement of social, fraternal and educational activities among its members and the public, with membership open to all persons having an interest in antique motorcycles.
----------------------------------------------------------------------------------------
The club sponsors several events throughout the year:
Desert Tower Ride - First ride of the new year. A fun ride out to the county line to visit the Desert Tower and stop for lunch on the way back.
T-shirt ride - this is held every summer and always gets a good turnout for the ride out through San Diego's back country. New club t-shirts (hence, the name) are created every year for this ride and are available (for a small fee) to anyone joining the ride. It is an open ride to those who enjoy antique and vintage motorcycles. No entry fees, but a poker hand is typically offered.
Oldies Rides - there are several of these held each year, and the ride is limited to motorcycles at least 25 years old. Non-members, on appropriate bikes, are urged to ride with us. No entry fees are charged.
The club also holds an annual Christmas Party, Potluck, Garage Crawl and a couple other get-togethers just because we feel like it. These members-only events are always fun, and we avoid any long-winded speeches - unless Gene is auctioning off extra bike parts of course!